Heating Services – Heated Floors
Underfloor heating – Warm feets, cool calculated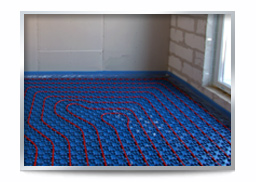 Underfloor heating is an efficient way of heating your house and having no radiators provides extra space and a better aesthetic. With heated floors you have a way of evenly heating your living space, whilst providing cosy comfort and warmth to your feet. The heat can be transmitted through various floor coverings and types like tile, concrete, wood or carpet.
Our heating engineers will be happy to assess your property and design an underfloor heating system that fulfills your needs.
Please feel free to Contact us.
Heated
Floors «