Accessible Bathroom – Senior-friendly Bath
Self-reliance obtained with accessible friendly conversions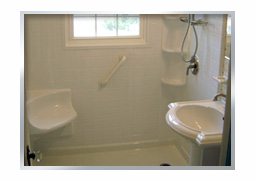 Modifications for barrier-free bathrooms are particularly needed when freedom of movement is limited. This is often the case with seniors, handicapped and / or persons in wheelchairs. In this case, the bathroom must not only be barrier-free, but wheelchair accessible. A handicapped or senior bathroom does not only need to be practical, it can also be luxuriously.
In Germany, it is regulated how a barrier-free bathroom should look. This ensures that, for example, wheelchair users can use everything in the bathroom without help.
Let us advise you, which conversions are necessary and executable.
---
GIVE HOLD AND CREATE SPACE – SENIOR FRIENDLY BATHROOMS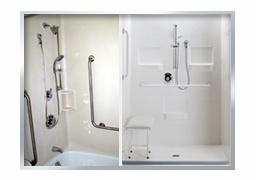 Age-related limitations in using bath and toilet are always very individual. Modifications or adjustments are matched exactly to the type of movement limitation.
Even small changes, such as a handle in the right place or bridged steps, can make the difference, between possibly agonizing to impossible to use or reach everything without any problems.
We have the experience and give you the right recommendations during the conversion.
Bathroom
Conversions «